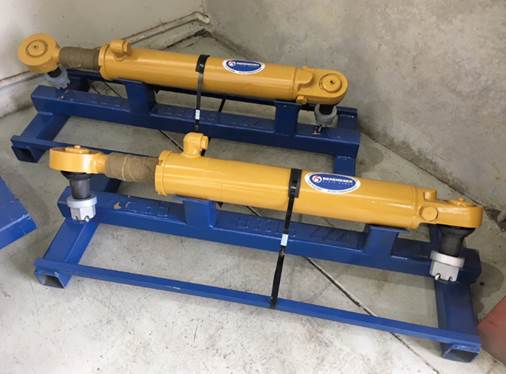 Hydraulic cylinder exchange and hydraulic cylinder repair are two ways of solving the same problem. Both solutions will get your cylinder back into service in slightly different ways. With hydraulic cylinder repair your own cylinder is reconditioned and sent back to you. Whereas with hydraulic cylinder exchange, you swap your cylinder for an off-the-shelf reconditioned cylinder of the same make and model.
The same result is achieved. So, what's the difference? And what are the advantages or disadvantages of going one way or the other? In this article, we break down pros and cons of each service, so you can make an informed choice next time one of your cylinders gives up the ghost.
Hydraulic Cylinder Repair.

Pros

---

Cons

---

1. Availability.

No matter what the make or model, it is always possible to find someone with the facilities, equipment and expertise to repair your cylinder.

2. More control over quality of repair.

Repairing offers you the opportunity to select the most reputable repairer, who uses top quality components and follows stringent repair processes.

3. More suppliers to choose from.

You can keep costs down by shopping around. Likewise, you have the option to choose your preferred repairer who you may offer preferential pricing to you.

1. Slower than cylinder exchange.

Cylinder repair inevitably takes longer than immediately simply swapping a model out. The cylinder must be transported to the repairer. Disassembly and assessment must take place. Parts must be sourced. In some cases, cylinder rods may need to be sent away for re-chroming (Berendsen has a dedicated facility for this).

2. Unpredictable downtime.

If the repairer cannot source the required components, the process can take much longer. If parts are not kept in stock, or cannot be immediately sourced from the manufacturer, they may need to be imported from elsewhere. In addition, some repairers do not have access to in-house chroming or machining and may need to order components such as barrels to be machined by outsourced suppliers. All of which takes time.
Hydraulic Cylinder Exchange

Pros

---

Cons

---

1. Speed!

Speed is undoubtedly the main advantage. There's no doubt that hydraulic cylinder exchange is the fastest way to get the cylinder you need and a machine back in action, by far. Exchange allows you to skip all the delays commonly involved in cylinder repair. These include transport to-and-from the repairer. Sourcing components and seals from manufacturers. Sending rods out to be re-chromed. Reassembling and testing. With cylinder exchange, the reconditioned cylinder is on route to you immediately when you order it. It can be on the way to you even before the old unit has been removed from the machine. You can't beat the experience of calling a supplier up and having a replacement cylinder sent to you right away.

2. Often cost effective.

Usually, you'll pay only for repair, not the exchange service, which means theoretically you won't pay more than a standard repair.

1. Cylinder availability

Cylinder availability can be a challenge, especially with less common models. It is difficult for suppliers to maintain huge stockpiles of cylinders to make available for customers. That being said, cylinder exchange is becoming more widely available. Berendsen stocks a number of common cylinders found on Caterpillar dozers and dump trucks, with more being added to the list on a continual basis. Check back from time to time, or sign up for our regularly updated list of cylinder models.

2. Need to ensure quality of repair

Like any repair, you should be very careful to choose a supplier with a good reputation for high quality repair work. While availability is sometimes an issue, it is never a good idea to go with an unknown supplier simply because they have the cylinder you are looking for.




3. Need to ensure invoice transparency

Cylinder exchange increases the need for trust between the customer and the repairer. Once you order an exchange cylinder, you are agreeing to allow the repairer to invoice you for the cost of repair to your cylinder before they have even looked at it. It's important to make sure you have complete transparency into the repair job that takes place. A reputable repairer will carefully disassemble and inspect your failed cylinder and produce a report - often including pictures - along with a list of components and work required to return it to service.
---
Conclusion:
As with anything, there are advantages and disadvantages to every solution. Both hydraulic cylinder repair and cylinder service exchange are effective ways to get your machines back in action. Depending on your circumstances, one or the other could be preferable to your needs.
If you have some time in hand and can afford a bit more of a wait, proactive maintenance is always best. In this case, hydraulic cylinder repair allows you to select a repairer with an excellent reputation for quality. If one of your critical machines is out of action and you need it up and running as fast as possible, then cylinder service exchange is a rapid turnaround solution to this challenge. If you choose a provider with an excellent reputation for quality of repair, you will still enjoy the benefits of a cylinder that performs at its peak, if the right model is available.
To give you more access to this service, Berendsen is continually adding new cylinder exchange models to its range. Over time, this will make more high quality reconditioned cylinders available to more customers at a fair price. If you want to stay informed, we suggest that you sign up to receive our regularly updated cylinder service exchange list by clicking the button below.