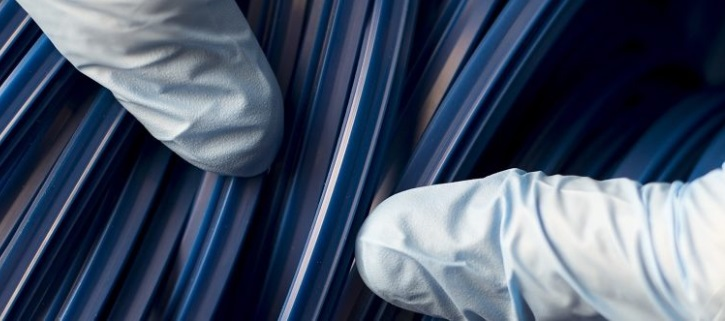 Hydraulic seals are the most vulnerable part of any hydraulic cylinder. These relatively fragile components must stand up to extreme pressures, compressive forces, extrusion factors, low or high temperatures and exposure to harsh chemicals and hydraulic fluids. There are a myriad of Hydraulic Cylinder Seal Materials available, with differing characteristics and properties - from low friction Teflon® to high-temperature Viton®.
Each of these materials play a role in the performance of the seals and consequentially - the cylinder itself. So, choosing the right type of seal material is extremely important when it comes to ensuring the longevity of your hydraulic cylinders. In this article, we'll take you through the different seal materials available and explore their properties and characteristics including temperature range and durometer (hardness) range to assist you in choosing the correct seal for your hydraulic cylinder repair.
---
Nitrile Rubber
Temperature range: -40°C - 100°C
Nitrile Rubber, also known as NBR or BUNA is a general purpose seal material that is very common in fluid power sealing applications - particularly O-rings. It is extremely versatile, has a good temperature range and has good abrasion resistance properties and high tensile strength and compression resistance in addition to being compatible with a wide range of oils and fluids.
Carboxylated Nitrile Rubber
Temperature range: -45°C - 120°C
Carboxylated Nitrile Rubber (Also known as XNBR) is a variant of Nitrile for sealing applications that require more wear resistance. Composed of Nitrile with Carboxyl added to the formulation, the addition of Carboxyl to the Nitrile compound gives this seal material improved abrasion resistance, without sacrificing the oil resistance properties of NBR or Nitrile Standard. XNBR compounds present good physical qualities at high temperatures and a high tensile strength making it a good choice for heavy-duty fluid power applications when more wear resistance is required
Hydrogenated Nitrile Rubber
Temperature Range: -40° to 165°C
Also known as HNBR, Hydrogenated Nitrile Rubber is another Nitrile compound made up of hydrogenated nitrile butadiene rubber and highly saturated nitrile (HSN) rubber. HNBR is highly resistant to oil, gas, and steam and has greater temperature resistance than standard Nitrile or other polyurethane seals. HNBR is well known for its tensile strength and integrity even after long-term exposure to heat, oil, and chemicals.
Hythane® (TPU - Thermoplastic Polyurethane Elastomer)
Temperature Range: -45° to 110°C
Hythane is widely used as a dynamic seal material and is available in a range of variations made to suit different applications and temperature ranges. It is a good general purpose hydraulic and pneumatic sealing material that is well proven in low-temperature environments and in high water-based fluids, as well as standard hydraulic mineral oil-based fluids.
Viton®
Temperature Range: -26°C - 204°C
Also known as FKM – Fluoroelastomer Rubber, or Fluorel®. Viton® is well known for its excellent temperature and chemical resistance. It can handle temperatures up to 204° Celsius making it suitable for many industrial situations. Moreover, while many chemicals cause swelling and/or degradation of other seal materials, Viton is unaffected by most chemicals with the exception of some esters and ethers. Viton is limited in its duro rating, which is the level of hardness of the material. It is also more expensive than other materials, so is usually used in applications where high heat resistance is required.
Teflon®
Temperature Range: -128° - 260°C
Teflon®, (also known as PTFE) is a polymer with a very low coefficient of friction and a broad range of chemical resistance making it ideal for applications with extreme temperatures, pressures and chemicals. Its low friction coefficient gives it excellent slip-stick characteristics, which makes it a very popular material for piston seals, rod seals and wipers especially in applications with high duty cycles and or operating speeds. However, Teflon® alone has some limitations in its properties and wear characteristics. For this reason, Teflon® is often compounded with materials such as glass, or bronze to give it added wear or extrusion resistance, which allows for a higher extrusion gap than other materials. This offers greater wear properties and reduces the likelihood of metal-to-metal contact of components. This, along with its other strengths means that Teflon® is often used in buffer-type seals, to back-up polymer style rod seals.
Polyurethane
Temperature Range: -45° - 93°C
Polyurethane has a good temperature range and high abrasion resistance making it an excellent choice for many hydraulic applications. Urethanes are highly resistant to petroleum oils, hydrocarbon fuels, oxygen, ozone and weathering.
Polymyte
Temperature Range: -53° - 135°C
Polymyte is an elastoplastic material with exceptionally high tear strength. Its high durometer makes it suitable for applications where extrusion is a problem. Polymyte can be used with petroleum-based fluids, water-based fluids, phosphate ester fluids, some chlorinated fluids and many solvents.
---
Choosing The Right Hydraulic Cylinder Seal Material For Better Performance and Durability
With such a wide range of Hydraulic Seal Materials with different strengths and weaknesses, it is important to choose wisely in order to ensure every hydraulic cylinder repair is not only cost-effective but also ensures a longer operational life and better performance throughout the life of the hydraulic cylinder. Improper seal material will inevitably result in premature wear and an increase in the likelihood of early failure of your equipment.
Whenever a repair takes place, it's important to examine each seal and assess the wear and/or failure characteristics. Symptoms such as fracturing, glazing, and swelling may indicate an inappropriate seal material for the application or operating conditions. An experienced hydraulic cylinder repair technician will be able to determine if another seal material may be required - extending the future life of your equipment.