Berendsen Fluid Power is excited to announce significant upgrades to its hard chrome plating operation. The upgrades include the addition of new facilities in WA and VIC, along with modernisation of existing facilities in NSW, and the addition of new state-of-the-art electroplating technology.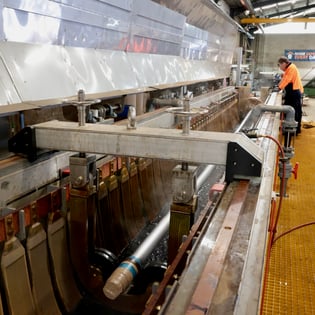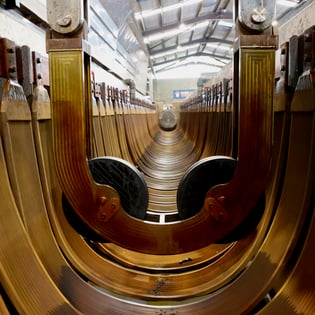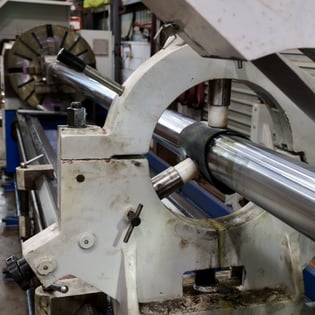 These investments have been made to support Berendsen's hydraulic cylinder repair operations, providing rapid access to high-quality hard chrome resurfacing of cylinder rods, which is crucial to the proper repair of hydraulic cylinders. Keeping these capabilities in-house also allows Berendsen to control the entire hydraulic cylinder repair process from end to end, ensuring quality while reducing repair times.
One of the key enhancements in Berendsen's hard chrome plating operation is the ability to restore very large hydraulic cylinder rods, such as those found on large mobile cranes. Historically, this capability has been lacking in Australia due to the scale of stripping tanks and electroplating cells needed to perform this task.
To achieve this goal, our facility in Kings Park, NSW, has been completely rebuilt and modernised. The highlight of these upgrades is the installation of a purpose-built, 360-degree horizontal-rotation chrome plating tank. As the only rotation-plating system of its kind in the country, it is capable of handling rods up to 12 meters in length and is engineered to deliver superior chrome deposit depth and concentricity.
The rotation-plating system features a conforming anode system that delivers optimal current density with an ideal anode-to-cathode ratio, resulting in reduced contaminants and improved adhesion. While continually rotating the rod ensures even and consistent chrome deposition along the entire length. In this way, Berendsen's technicians are achieving chrome deposit depths over 350 microns for rods of extreme length. The result is a hard chrome finish that lasts longer and performs better in the long run, providing our customers with superior quality products.
"We are extremely proud of the upgrades to our hard chrome plating operation," said James Leach, CEO of Berendsen Fluid Power. "The addition of new facilities and purpose-built plating technology enhances our overall capabilities - particularly with regard to the restoration of very large cylinder rods. These investments position Berendsen as the undisputed leader in hard chrome plating quality."
Berendsen Fluid Power has a long-standing reputation for providing reliable hydraulic solutions to a wide range of industries, including mining, construction, manufacturing, and agriculture. With these upgrades to its hard chrome plating operation, Berendsen is poised to further strengthen its position as a leading provider of hydraulic cylinder repair services in Australia.