Berendsen has established 3 new Danfoss Build Centres in Richlands, Perth and Melbourne in order to serve customers better. These new facilities enable Berendsen to provide Danfoss products with OEM quality, while ensuring product registration with Danfoss, preserving records and warranties.
---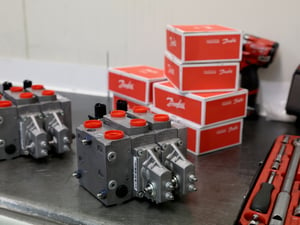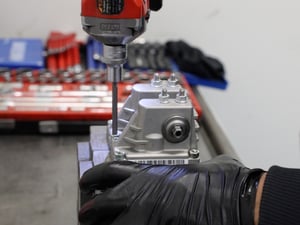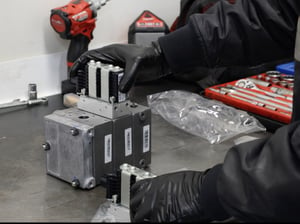 About Danfoss Build Centres:
The Danfoss product range offers endless possibilities. From the performance of the D1P open loop pump to the versatility of sophisticated sectional PVG valve groups, Danfoss products can be brought together to put hydraulic power to work. However, high end hydraulic components require careful assembly in a strict quality controlled environment by OEM-trained technicians following the manufacturer's guidelines.
That's why, as a Danfoss distributor, Berendsen maintains 3 Danfoss product build centres to facilitate the correct assembly and testing of Danfoss products to OEM specifications. These build centres have been established in accordance with Danfoss' stringent guidelines to confirm to the quality standards to satisfy Danfoss' requirements for accreditation.
This gives Berendsen the capability to build and deliver the most sophisticated, high end Danfoss product offerings, in virtually any configuration - following the same procedures as the at the OEM production facility.
This means even for the most complex and sophisticated Danfoss solutions, there is functionally no difference between the quality of products delivered by Berendsen and the manufacturer itself.
---
Key Features of Berendsen's Danfoss Product Build Centres:
Dedicated Cleanroom Build Environment:
Our Danfoss product build centres are housed in a dedicated area in each branch that is set up in accordance with Danfoss' strict requirements. These are maintained as "clean environments" in order to reduce the risk of foreign body contamination during assembly or testing.
Calibrated & Tested Tooling & Equipment:
Each build centre is equipped with all the specified machines, measuring devices, hand tools and testing devices required by Danfoss to correctly perform every task. Every build that takes place follows OEM specifications for from tolerances to torque settings and every product undergoes full testing & validation before leaving the build centre.
On-hand inventory of Danfoss components & spare parts:
Each branch is required to maintain stock of the Danfoss components and spare parts necessary to perform any product build. For this reason we carry a wide range of products from PVG valve sections to all the required seals, shafts, control devices, and many other items. Anything that is not immediately available in the branch is quickly ordered from our central warehouses and are dispatched within hours to complete any build within the minimum timeframe.
Strict Product Registration & Record-keeping:
Every build that takes place receives a serial number and is recorded in Danfoss' global system in order to ensure complete product traceability and build history. This ensures that there is a record of how and where every product was used - including how each build was configured and any modifications made to the original specifications. This means Danfoss has complete oversight over every product that leaves the build centre and - should problems arise - they can be quickly traced. It also ensures complete customer information security - since all privileged technical information on components used in customer systems - as well as configurations and modifications - can only be accessed by authorised agents.
Complete Access to OEM technical data & instruction:
With access to Danfoss' up to date information on every product and detailed fitment and configuration instructions ensures all product builds are conducted in accordance with the same procedures that take place at the OEM manufacturing facility itself. There is no guesswork involved. In addition, Berendsen's technicians have access to Danfoss' technical resources & engineering assistance at all times should the need arise.
---
Berendsen is Powering A Better Experience For Danfoss Customers
As Australia's Premier Danfoss distributor, Berendsen has the scale, the service and the facilities to help customers put Danfoss products to work wherever they are. Our Danfoss product build centres have been established to ensure you have access to the very best Danfoss products with 100% confidence that they will perform as designed and give you the service life you expect from every Danfoss product.
This is another example of the lengths we're going to in order to power a better customer experience for Danfoss customers. That's why we say Danfoss customers can rest assured that you are in good hands with Australia's most complete hydraulics solutions company.