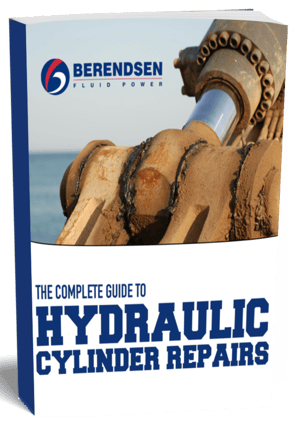 All cylinders inevitably lose performance and sometimes even fail completely. However, with the right maintenance and attention to the important things, it's possible to keep your cylinders running strongly and costing less in the long run.
Yet, the subject of hydraulic cylinder repair is hugely complex - involving physics, forces, fluids, heat, abrasion and environmental factors. That's why, returning hydraulic cylinders to peak operating performance requires a highly detailed knowledge of all of these factors.
With all these complexities, it's little wonder that there is a lot of confusion about hydraulic cylinder repair. That's why people are looking for all kinds of information on the subject - from the symptoms of premature wear to correct repair procedures. For this reason, Berendsen has put together an in-depth guide on the subject.
Our 9 nationwide branches return hundreds of Hydraulic Cylinders to active duty every day. As such, our organisation is an undisputed authority when it comes to diagnosing and fixing every kind of cylinder failure. In this guide we will arm you with the information you need to spot issues before they become major headaches, and provide you with the right information to get your cylinders back to peak operating efficiency when things go wrong.
Just as a surgeon can inspect an X-ray, an experienced hydraulic technician knows what to look for in order to treat an ailing cylinder. And just like a surgeon, the hydraulic repair technician has the knowledge, tools and components to return a cylinder to life.
With this downloadable eBook we will try to pass on to you some of this skill and experience to inspect and assess components for signs of wear, and to understand what has taken place during the life of the cylinder. To give you a better chance of avoiding and fixing issues.
---
Here's what is covered in the Complete Guide to Hydraulic Cylinder Repairs:
1. Symptoms of common hydraulic cylinder failures.
We take a look at some common telltale signs that all is not well within your machine. We investigate the underlying causes behind the most common types of hydraulic cylinder failures. Enabling you to better assess and predict issues before they become major problems.
Some of the topics covered include:
Fluid loss

Increases in heat

Sticking & juddering

Efficiency issues

Abnormal noise
---
2. Causes and effects of individual component failure
The complete guide to hydraulic cylinder repairs also takes apart the cylinder to the component level to teach you how to scrutinise and inspect worn parts. Helping you to diagnose the cause of wear and educate yourself about the underlying factors that led to the failure of the part.
Some of the topics covered include:
Barrel ballooning

Seal fracturing, extrusion and scarring

Rod wear

Split welds
---
3. How to repair cylinder failures & avoid repeated failures
This guide also provides practical advice and recommendations on the treatment and repair of failed cylinders. Including when it is more cost effective to replace a part vs repair it.
Some of the topics covered include:
Design recommendations

Material strength specifications

Prescribed maintenance schedules

Seal selection

Rod surface engineering

Fluid Contamination

Avoiding abnormal forces such as lateral Loading

Preventative maintenance
---
5. Risks of Hydraulic Cylinder Failure
Poorly maintained hydraulic cylinders don't just perform badly, they also present major risks to owners, operators and the environment. For this reason it is important that hydraulic cylinders and other equipment are maintained in good working order. This guide covers some of the risks that poorly maintained cylinders pose to companies.
Some of the topics covered include:
How loss of efficiency increases the running cost of your operation.

The effect on hydraulic pumps and motors, mounting points and bearings.

Plus, the safety risks of hydraulic cylinder failure to workers and the public.
---
Download tons of information to diagnose and fix hydraulic cylinder problems.
This is just some of the information that has been collected and presented in the Complete Guide to Hydraulic Cylinder Repair. Berendsen operates repair divisions in 9 branches, nationwide. Our technicians perform hundreds of cylinder repairs every month. From simple general purpose cylinders to enormous luffing cylinders. When it comes to cylinder repair, there is no greater authority on the subject. It is our mission to keep your hardest working components working hard for you. So, we hope this information helps you to identify, avoid and fix hydraulic cylinder problems and maintain perfect performance.